Fire Damage Restoration in Norfolk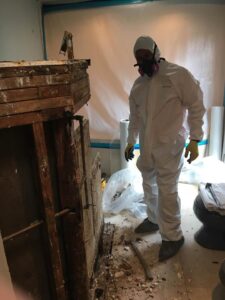 As a property owner, there are few worse things that you can experience than a fire breaking out at your home or business. Whether it's a small kitchen fire or a full-blown inferno, you'll be left with extensive damage and a completely upturned life. Now more than ever, you need to find a compassionate team of professionals who can tackle different types of repairs and treat you as they would their own neighbor.
Our quick response is why so many have turned to 911 Restoration of Norfolk during their times of need. We are available by phone 24/7/365 and can be right there within 45 minutes of your call. Fires can happen any day at any time, so we're always on hand to help you rebuild right away.
Everyone on our dedicated staff is fully licensed, bonded and insured to provide you with the best fire restoration services possible. Depending on what the damage is, these can include but aren't limited to:
Ash and smoke removal
Removing burned possessions
Restoring of damaged items
Replacement of walls and ceilings
Replacement of flooring and windows
Permanent odor removal
Cleaning fire retardant chemicals
Call 911 Restoration immediately to learn how we can assist you with fire damage restoration in Norfolk
What Do I Do If There's A Fire On My Property?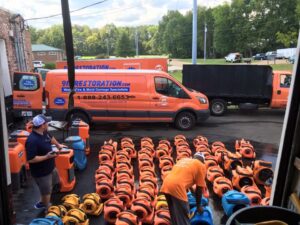 First and foremost, it's important for you to remember that we at 911are not qualified to put out fires. If you are experiencing a property fire, please get to safety immediately and  call emergency services.
Upon their arrival, our fire restoration technicians will start off by thoroughly inspecting your property for free. They'll then give you a complete rundown of our restoration process going forward, followed by a free insurance consultation to let you know what your coverage options are.
We supply our techs with the most efficient tools and resources available to help them get your property back to like-new condition. They use soda blasting for soot, ash, and smoke removal, board up roofs and windows to keep out the elements, and then secure and restore any salvageable items that we find. They'll also store walls and ceiling, replace flooring, and take care of all other forms of structural damage that they find.
There is always some form of water damage at every fire scene, whether it's from fire hoses, the sprinkler system, or even a damaged pipe. We work quickly to extract all the remaining water and get everything dry before making repairs and checking for mold removal in Norfolk growth. And, if need be, we can permanently remove difficult odors so you'll have no lingering reminders of what just happened.
No matter how overwhelming things might be, we do everything we can to make sure that all Norfolk-area property owners recover from fire damage Restoration in Norfolk.
We Help Norfolk Rebuild, One Fire Cleanup At A Time
Like we've said before, a sudden fire is one of the worst things that a property owner could experience. You not only have to deal with a ruined home or business, but you now have to cope with a sudden loss of stability and need all the help you can get to get it back. Fortunately, our team at 911 Restoration of Norfolk can be right there to assist you in more ways than one.
If you're a property owner, then it's crucial that you have insurance even for potential fire damage alone. Yet it can still be difficult to navigate, especially if it's your first time filing a claim, and one small mistake can deny you the help you desperately need. That's why we set up a free consultation to go over your coverage and will aid you with everything from filling out paperwork to billing your insurance company ourselves.
Every single case that we take on is handled with absolute compassion and sensitivity, no matter how big or small it might be. We know too well that dealing with any kind of property damage is unimaginably stressful. So we're more than happy to take some of that load off so you can focus on rebuilding your life and peace of mind.
When times get tough, you can count on us at 911 Restoration to help you to put your mind at ease and your life back in order. We're on hand to service everyone in and around the Norfolk area.