Sewage Backup and Cleanup Norfolk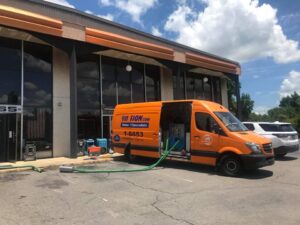 A sudden sewage backup is the last thing that any property owner wants to deal with. It's not only gross to see (and smell), but it can cause structural damage and is basically a breeding ground for disease-causing bacteria and parasites. And no matter how careful you try to be, you can't always account for accidents, aging pipes, and Norfolk's heavy rains.
When you need emergency sewage cleanup, know that you can count on 911 Restoration. With our 24/7/365 service, we can have a team right at your door within 45 minutes of your phone call. Emergencies often happen at the worst possible times, so we're always on hand to assist you as soon as disaster strikes.
All of our sewage cleanup professionals are IICRC-certified and utilize the best tools and techniques to restore any home or business back to its old, pristine condition. Their years of training and experience mean that they can quickly devise a strategy for sewage water cleanup and restoration. They'll even do everything from aiding with insurance to providing you with tips to keep this from happening again.
For us, it's not just about cleaning and repairing your home or business.
As soon as sewage backup happens, call us at 911 Restoration right away to get everything fixed up quickly.
Exactly How Bad Is Sewage Backup for My Home or Business?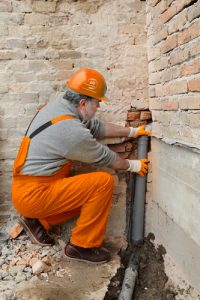 Sewage water backup is much more than just a flooded basement or clogged toilet. The resulting damage warps your building's structure, destroys flooring, and creates harmful mold outbreaks. And if that's not bad enough, incoming bacteria and parasites from the sewage water restoration in Norfolk VA are a major hazard to your health.
Fortunately for all Norfolk-area residents, these issues are normally very easy to avoid with just a few simple tips:
Flush only toilet paper and human waste
Properly dispose of grease and cooking oils
Look out for gurgling faucets and toilets
Avoid using abrasive chemicals to unclog
However, there still are some factors that you can't always account for or might not even find until it's too late. Stormwater flows into combined pipelines and cause basement flooding, while tree roots will enter sewer line cracks and pipe joints in search of moisture.
Yet no matter how it might have started, our team here at 911 Restoration of Norfolk can safely restore your property after any sewage backup disaster. We know firsthand what a hazard it can be to your health and to those around you, and we'll do everything we can to make sure it's safe for you to return.
Get Expert Sewage Cleanup When You Need It Most
They provide multiple services to thoroughly clean and restore your property back to like-new condition, including:
Water extraction and drying
Thorough cleaning of all spaces.
Packing up at-risk items
Flooring replacements
General structural repairs
Complete sanitization
Permanent odor removal
Our dedicated staff is also more than happy to take care of you in other ways to ensure that you're fully satisfied. After our initial inspection, we can also give you a free insurance consultation to let you know what will or won't be covered and how we can assist with payments. And, to really put your mind at ease, we give you complete updates and estimation as we work on work property.
When your sewer system gets backed up and you're left to clean up the mess, you'll need a team of experts that are both highly skilled and sensitive to your individual needs. This is why so many here in Norfolk, Monmouth, and Chesapeake turn to 911 Restoration during their worst property disasters. We handle each job with only the utmost professionalism and sensitivity and will absolutely do the same for you.
If you're in need of fast restoration and sanitization services, reach out to us at 911 Restoration for a much-needed Fresh Start after a sudden sewage backup.
Serving the communities of Chesapeake, Norfolk, Virginia beach and surrounding areas.