Water Damage and Mold Removal Chesapeake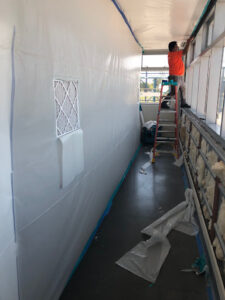 With constant rainstorms and the threat of hurricanes and floods, Chesapeake's weather can do a number on your property. Of course, broken pipes and appliances could be just as harmful to your building's structure. And if it's not addressed right away, you could also be dealing with a rnasty mold outbreak that's difficult to get rid of.
Fortunately, you can always turn to 911 Restoration of Norfolk to bring your home or business back to like-new condition. With our phone lines open 24/7/365, we can send our pros to your front door within 45 minutes of your call.
As a locally owned and operated business, we are fully licensed, bonded, and insured for your protection. All of our professionals are IICRC-certified to ensure that our services are truly high-quality. Furthermore, we equip our technicians with all of the best tools and materials available to restore any water disaster that you might have.
Our professionals get straight to work as soon as they arrive, starting off with a free visual inspection and then quickly removing all of the loose water from your property. They not only restore and repair the structure, but they also store away any items that can be saved. And they'll do it all with the greatest compassion and sensitivity possible.
Call 911 Restoration of Norfolk as soon as you discover signs of water damage on your property.
Storms, Floods and Broken Pipes can Damage Your Property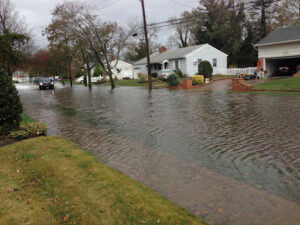 When you live in an area at risk for hurricanes and floods, such as Chesapeake, water damage to your property is bound to happen. Rain seeps into cracks, leaking into your building, and floodwaters damage your building's structure. Heavy winds can also knock down large branches that crash through windows and roofs, letting rain flood your home or business.
Even wintertime brings its own unique challenges, as frozen pipes can burst and flood the inside of your property. And melting snow leaks into cracks and backs up your sewage system, and icicles can get so heavy that they'll damage your roof and siding. 
Fortunately, there are things you can do to reduce your risk of water and storm damage:
Trim nearby branches to protect your roof and windows

Make sure that your gutters are kept clean

Remove icicles regularly during Winter

Check pipes and hoses for signs of wear

Insulate all exposed pipes during Winter
But even if these tips aren't enough, 911 Restoration of Norfolk is always on-hand to help you. Call us as soon as you spot water damage so we can address it right away.
Turn to Us For A Truly Fresh Start After Water and Mold Damage
No matter how your home or business sustained water damage, 911 Restoration of Norfolk can give you the Fresh Start you need.
Once our experts arrive, they perform a thorough visual inspection before getting straight to work. They quickly vacuum up all of the loose water and get the area completely dry using our high-powered blow fans. Afterwards, they board up any damaged windows and pack up all at-risk items to keep them safe.
Our experts do everything they can to repair the damage and fortify your property's structure, even replacing drywall and insulation if needed. We also consistently check for signs of mold as we repair your water-damaged property and quickly remove any outbreaks that we find.
Furthermore, we keep you up-to-date throughout our process and will happily address any concerns that you have. We can also offer free insurance consultations and can guide you through the complicated claims process. Our team understands that you have a lot to worry about right now, so we're happy to lighten the load in any way possible.
Don't wait to repair your damaged property. Call 911 Restoration of Norfolk right away to revitalise your Chesapeake home or business after any water disaster.