Mold in the Garage: How Does It Get In There (and How to Remove It)?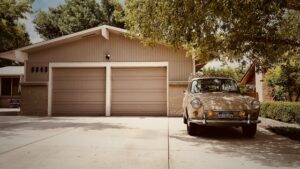 Dealing with mold in the garage isn't even on a homeowner's radar until the infestation becomes difficult to ignore. If you think about it, residential garages are often dark and humid with no windows or proper ventilation. With your garage door down most of the time, they become the ideal breeding grounds for different kinds of mold.
Leaks, faulty pipes, and hot summer days facilitate these icky developments until you realize that you have mold in the garage one fine day. These include musty smells, peeling paint, spotted walls, and other visible signs of property damage.
As trusted home restoration experts in Norfolk, we have tackled numerous mold removal and remediation jobs. We use these experiences to share our insights about moldy garages.
Here's what you should know:
The Premises and Prevention: How Does Mold Get Into Garages?
Mold grows in spaces that are dark, damp, and stuffy. The lack of air circulation and high humidity levels inside garages become a petri dish for mold growth. In addition to this, pets, cars, and even you bring it into the garage if you've previously been in a contaminated area with air-borne spores.
Other reasons for mold in garages include the utilization and maintenance of the space.
For example:
Faulty plumbing lines and undetected leakage
Failure to wipe off wet car tire tracks and drips from the garage floor
The improper installation of door seals can let rain inside, causing the garage walls and ceilings to become damp
Prolonged storage of cellulose-based materials like cardboard and paper that act as a food source for mold
Wet floors and walls that get splashed by water during a car wash or other garage activities
Utilizing your garage as a laundry room or have kept heating equipment there
In short, anything that creates moisture build-up can set off mold growth. Additionally, the likelihood of mold in the garage increases when the weather conditions are hot and humid or if the stormy weather has managed to seep into this part of the house.
You can minimize risks by improving air circulation in the garage and building windows to let natural light inside. Regular plumbing maintenance, quick repairs, and weather-resistant paint are other ways to prevent mold.
Mold Removal and Remediation: Why Should You Call Home Restoration Experts?
Hiring professionals for mold removal and remediation becomes necessary due to the toxic nature of some mold variants. Prolonged exposure could give way to health hazards and problems. You might notice this when you experience breathing difficulties inside the moldy garage or observe unexplainable flu-like symptoms (i.e., sneezing, watery eyes, fever, and headaches).
Without intervention, these health issues turn into chronic medical conditions. Family members and friends with allergies are susceptible to more severe symptoms than the rest.
Therefore, taking the DIY route isn't the safest decision. That's because an average homeowner does not have the expertise or equipment required to remove all traces of mold. Nor can they efficiently restore mold-damaged spaces.
911 Restoration of Norfolk Can Save the Day
Our home restoration experts are IICRC-certified specialists with industry-grade training in mold removal and remediation. It's why homeowners in Norfolk can trust us to come through for them when their garages start smelling moldy, and they notice visible signs of damage.
We run a 24-hour operation and ensure that a consultant arrives at your door within 45 minutes of your call. Our prompt response can be the difference between remediation and the irreversible consequences of costly damages.  That's why we request property owners to give us a call as soon as possible.
Upon arrival, our expert will conduct a detailed examination of the target site. We run a few diagnostic tests to find the source and extent of your mold problem. The results are used to develop a personalized mold remediation plan that can include:
Apart from sharing our technical expertise, we provide insurance support by collecting evidence of mold damage. You can use the photographs and videos we take to file an insurance claim for mold remediation.  Having a licensed mold company by the side can maximize the chances of receiving good coverage for the service and reconstruction costs.
What Next?
Mold in the garage will become a recurring problem if you're not careful. Take steps to prevent charges from being clammy and stuffy to limit mold growth. Investing in fans, dehumidifiers, and temperature control setups can prove beneficial if you face this problem continuously. You can even remodel the garage to improve ventilation.
More importantly, make home maintenance a priority, especially after a storm during changing seasons. The attention you give to your garage today will save you from a moldy future tomorrow. When in doubt, you can trust our mold removal and remediation services to protect your property.
Have a moldy garage? Contact 911 Restoration of Norfolk today to schedule a free inspection.