Tips to Keep You Safe from Fires This Halloween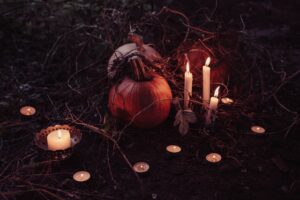 While Halloween is considered one of the most fun holidays in the year, it comes with a risk of catching fire. Not many people know this, but fire accidents are increasingly common during Halloween.
The good news is that you can avoid fire hazards if you follow a few simple safety precautions. Keep reading further to discover some valuable tips that will help keep your house and family safe from fires this Halloween.
Tip 1 – Be Careful About the Costume You Choose
The most exciting part about Halloween is dressing up in different costumes, especially for the little one. When working on a Halloween costume for yourself or your children, consider a few safety precautions to protect you and your family.
First of all, try to pick a flame-resistant fabric. Moreover, when working on the costume design, avoid adding long capes, trailing robes, and flowy gowns as they can easily catch fire.
Unfortunately, if your costume catches fire on Halloween, you should follow this safety protocol. Instantly drop to the ground at the same spot. Make sure you keep your eyes and mouth covered and rock your body in a circular motion until the fire extinguishes completely.
Halloween or not, this is the safety protocol to follow every single time in similar fire accidents.
Tip 2 – Replace Wax Candles with LED ones
While wax candles look hauntingly beautiful and help achieve that spooky Halloween aesthetics, it is one of the leading reasons fire accidents occur during Halloween.
For safety purposes, it is better to use LED candles instead of wax ones. Not only are they safe to use, but they also come in different designs and styles that look exactly like any regular wax candle.
In addition to this, you can experiment with floating candles and other Halloween-special candles to spruce things up in a safe and fun manner.
Tip 3 – Double-Check Your Fire Safety Equipment 
One of the best ways to avoid fire accidents on occasions like Halloween is to ensure that all your fire safety equipment is in place. This includes having a full-loaded fire extinguisher as well as a properly functioning smoke alarm.
Always double-check your smoke alarm and ensure that it is running smoothly. You just have to press the test button and verify that the battery is running and it is 100% charged. You need to replace smoke alarm batteries every year so save a reminder in your phone for that, so you do not miss out on it.
If your smoke alarm is older than ten years, it needs an immediate replacement. Do not delay the replacement of smoke alarms as accidents can happen anytime, and you need to stay cautious 24/7 to ensure your family's safety.
Tip 4 – Do not go for Trick or Treat during Night-Time
We get it; your kids are super excited for their trick and treat rounds in the neighborhood. A better way to do that is by taking them for their little adventure during the daytime. It is safer to head out for 'trick or treat' during the day as you do not need to carry any candles with you. This is because everything is visible in broad daylight, lowering the chances of any fire accidents.
If your kids still insist on going for 'trick or treat' during the night, then make sure they are never left unattended with a candle. Instead, give them LED candles or a handheld torch to avoid any risks of catching fire.
Tip 5 – House Party Safety Checklist
While you are busy decorating your Halloween house party, take these safety precautions in mind.
Avoid putting items near any candles or naked flames that could easily catch any fire.
Never keep any decorations like fairy and led lights near the doorway as they could get tangled up and cause a short circuit.
Inspect your house for faulty electric sockets or any broken wires or connections that could lead to a short circuit fire.
Have a fire evacuation strategy in your head in case of a fire emergency. If there's a house party with numerous people, you need to clear out the exit doors and ensure their accessibility.
Tip 6 – Teach Basic Safety Techniques to Children
To better prepare yourself for fire emergencies during Halloween, it is essential to educate your kids about the basic safety protocols to better protect themselves.
Your children should be aware of fire hazards and steer away from playing with candles or open flames. Moreover, teach them how to protect themselves in case of an accident. They need to drop to the ground, cover their face, and rock back and forth until someone puts out the fire.
How to Fire-Proof Your Home This Halloween?
While it is essential to protect your house from fire accidents this Halloween especially, it is better to fire-proof your home all around the year. Get in touch with a professional fire damage restoration company like 911 Restoration of Norfolk, VA, to ensure the complete safety of your home and your loved ones.
911 Restoration of Norfolk, VA is just a call away from visiting your house for inspection. They are experts in the field and can fire-proof your home and take care of any restoration work required. It's better to be safe than sorry. So, contact them today for a free inspection.